Expedition Equipment
So its now April, its officially spring which means alot of people are starting to think of their next outdoor activity, it also means that Duke of Edinburgh expeditions and such like are going to start running properly again, this means lots of kit list, lots of choices and lots of money spent, money that could potentially be wasted, how? I hear you cry, think about how many people buy something use it once and thn either grow out of it, throw it away or wont do it again because something was uncomfortable, point of note here I`ve been in this position many many times whilst growing up, boots that dont fit was my biggest nightmare in one case resulting in a blister that covered my whole heel, it was that big I had to use duct tape rather than compeed to cover it.
This is by no means an exhaustive list of equipment but will concentrate primarily on the three most important pieces of equipment to buy;
Boots, Rucksack and Sleeping bag.
Why are these the most important things to concentrate on? why not waterproofs or insulation?
its quite simple, unless you are very unfortunte you won`t be wearing your waterproofs all day but you will have your boots on all day so they need to be comfortable and supportive and no trainers will NOT be OK, rough ground and a heavy load on your back require ankle support, something not provided by trainers.
Speaking of heavy loads you will also be wearing your rucksack for anything up to six hours on your back so it must not only support the weight you are carrying but it must also fit properly and be comfortable, a badly fitting rucksack can cause back ache, shoulder ache, neck ache, make knee problems worse, potentially giving a poor nights sleep.
sleeping bags, hands up those of you who have heard tales of sleeping bags that don`t work...there is nothing worse than 8 hours of cold misery when your sleeping bag just wont keep you warm, (there are a few tips I will give later that will make sure you get the best possible nights sleep you can) and as this can affect the next days adventure it is essential to get a good, well insulated, easily compressible sleeping bag.
So how much should you spend?
Allow me to answer a question with a question, how much do you want to spend?
I`m being serious just on those three item alone you could spend up to £900, yes really,
£500 for a sleeping bag, (arctic sleeping bag)
£200 for boots (summer walking boots, winter boots can cost up to £400)
£200 on a rucksack,
Thats the extreme end of course but gives you an idea of what you could spend if you really wanted to.
I will make clear right now, I don`t get paid to write this blog and is not intended to be a full review of each item, so what I will say is completely from the heart, don`t scrimp on these three item spend as much of your budget as you can on them, don`t borrow this equipment if you can help it, this stuff needs to fit you properly to make your expedition enjoyable and now with that out of the way, what would I recommend.
Boots
weather its your first time wearing boots or the 100th pair you`ve bought, spend time breaking them in, don`t go to the shop the day before and ask for a pair, its the quickest way to blisters and sore feet, most stores have a policy that as long as they are not worn outside they will allow you to bring them back if they don`t fit. be sure to have your feet measured as the "add half a size for socks" doesn`t always work, for example I have size 9 feet and only one pair of boots did I need to go up half a size (they were my winter boots so extra padding was required), you will of course have a choice of leather or fabric, the difference here is not in the waterproofing but in the weight and support, leather boots tend to be heavier but are more supportive where as fabric boots are lighter but not as supportive, although honestly it really doesn`t make that much difference.
When it comes to boots there are two varients to look at, mid Boots and full boots, mid boots tend to be softer, easier to wear, lighter, more flexible however they don`t offer the ankle support or weight baring of a full boot, whereas a full boot has more ankle support but takes longer to break in and is heavier, for a first pair of boots I would recommend full boots just for that peace of mind that it less likely you will hurt your ankle.
The options I put forward here are by no means your only options so shop around and see what you can get, for this catagory I have set a budget of £50, £100 and £150 and I will start with full boots.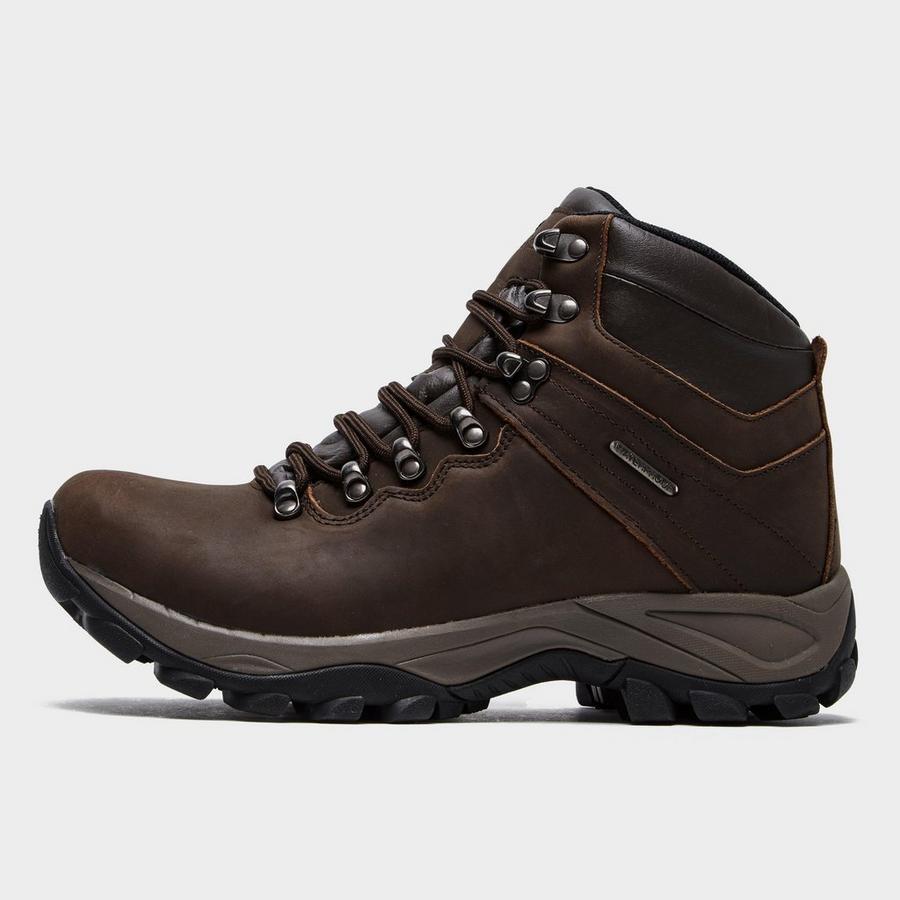 Peter Storm Brecon boots £49,
full leather and waterproof lining this boot blurs the boundary between mid and full while supple enough to be a mid it is also high enough to be considered a full boot.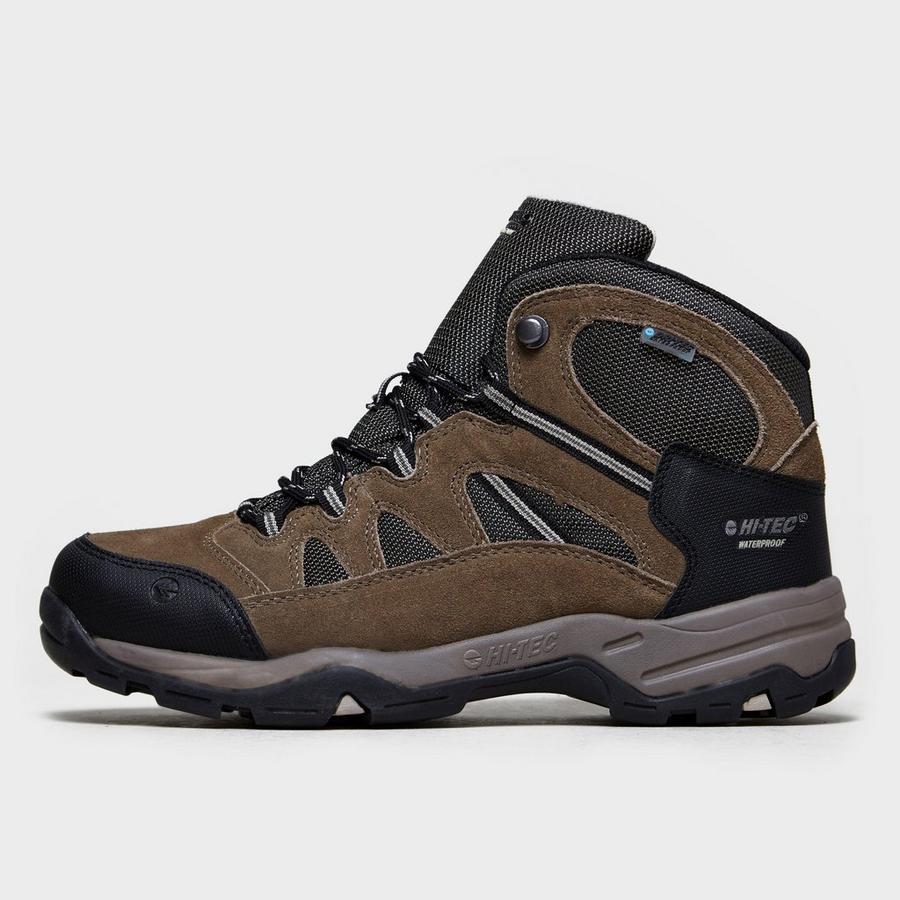 Hi Tec Bandera currently £40 (usually £80)
if you prefer fabric this is probably your best option lighter and more flexible but still waterproof thanks to the lining.
for those of you who would prefer a mid boot the options to consider are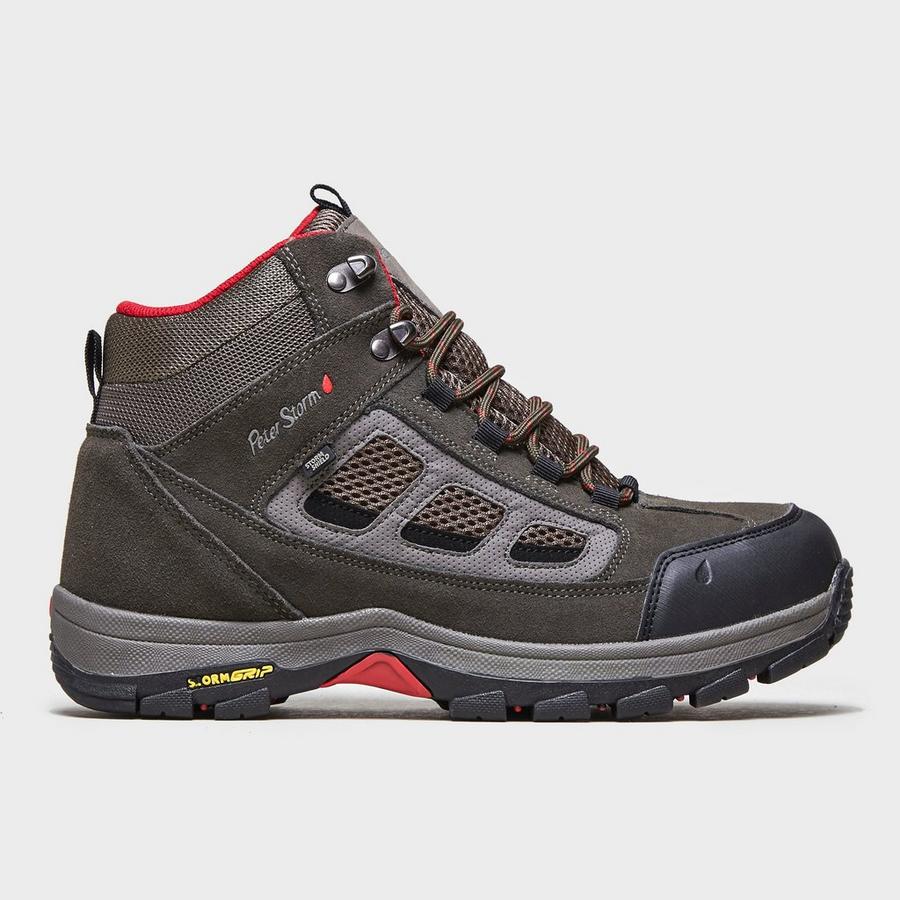 Peter Storm Camborne £40
as I say these boots do not offer the same protection as full boots but are more flexible and dont take as long to break in, these boot are however still fully water proof.
or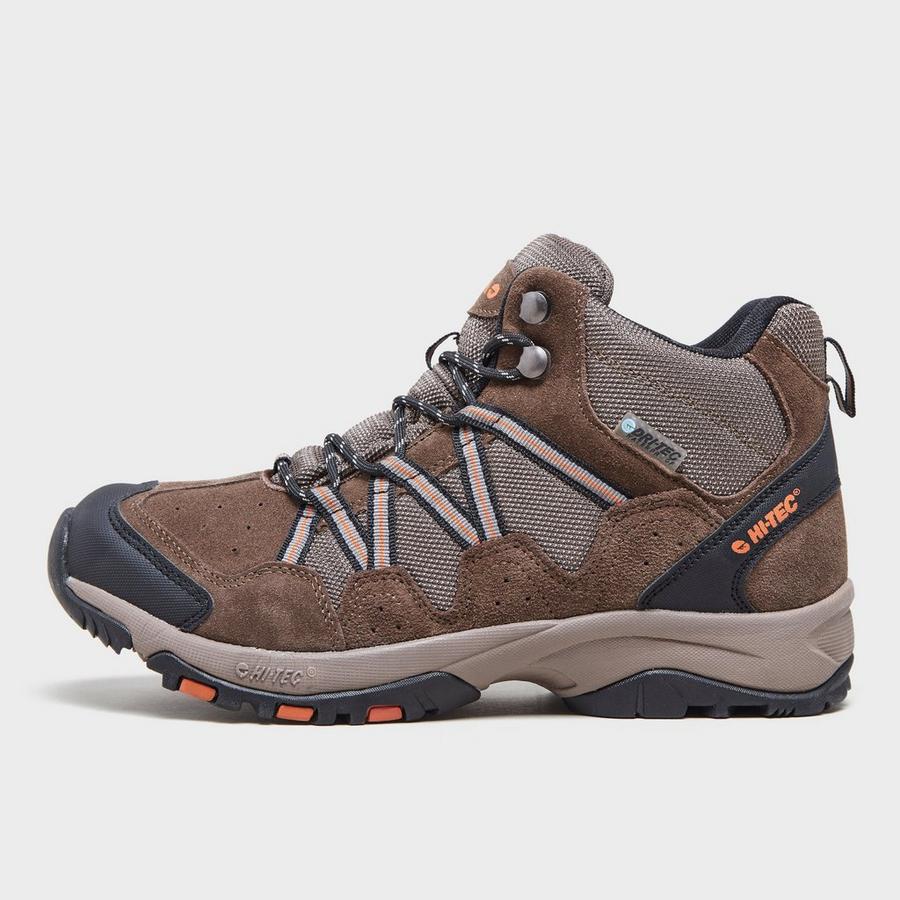 Hi tec Dexter £40
as above this boot is still fully waterproof but you do lose the support of the full boot
moving on to the £100 range, this is by far the most inclusive price range with the most variety of boots and brands as well as fit.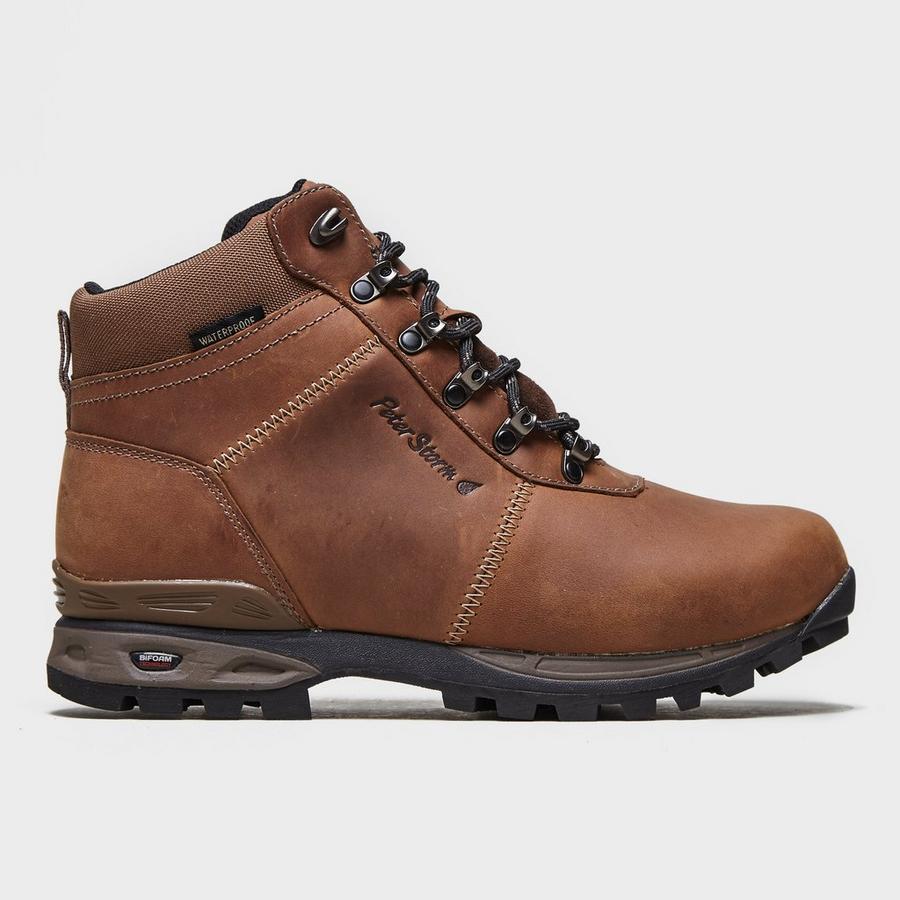 Peter Storm Snowdon £80
with its full full grain leather and waterproof lining this boot will keep your feet dry as well as offering considerable support for your ankle too.
Brasher country walker walking boot £99 (normally £120)
classic boots, very popular and for good reason, they never wear out, the only downside to Brasher is their naming policy which can get confusing, these are the country walker boots but also in the range are the country roamer, country hiker and the country trekker which are completely different.
Brasher Country Trekker, £99 (normally £120)
Essentially the fabric version of the boots above although more flexible
in terms of mid boots, ones I would recommend to look at would be,
the Berghaus expeditior trek 2.0 £100,
still fully waterproof but just remember that its not got the support
the Salomon mudstone £99 (originally £130)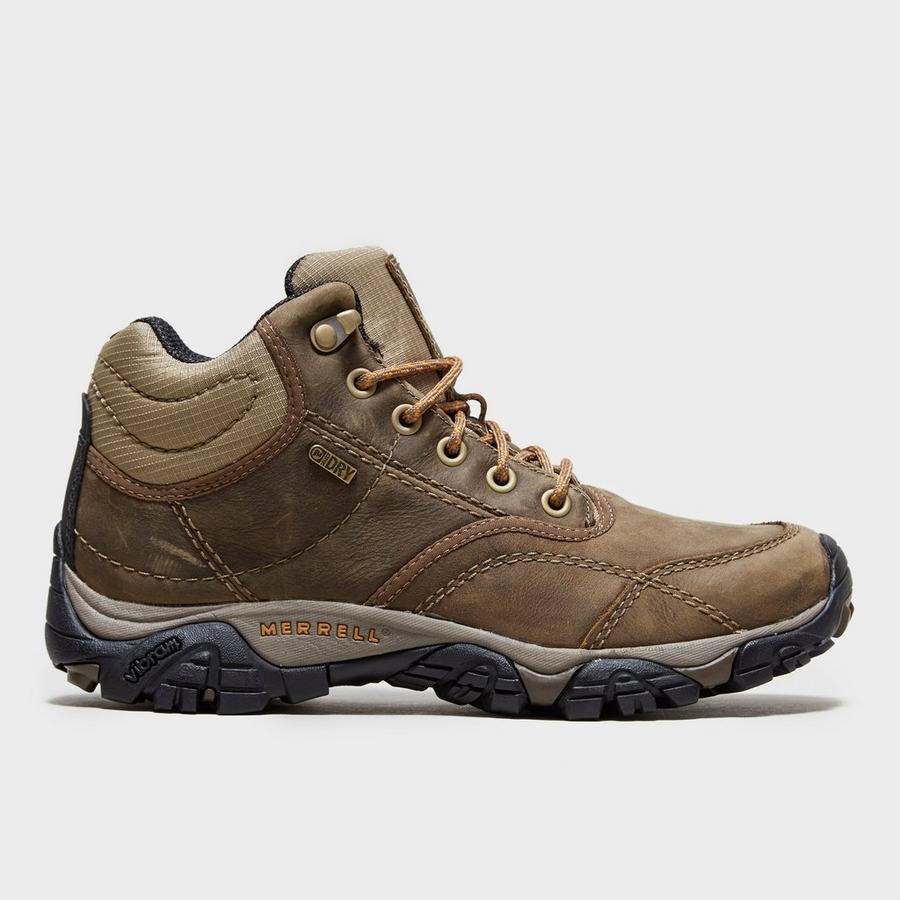 Merrell Moab mid £89 (originally £125)
As you can imagine going up into the £150 range offers almost everything you can think of in terms of what you would ever need, with the exception of being crampon compatible
boots in this range to consider are
Berghaus Hillwalker 2 £130,
a couple of years ago Berghaus and Brasher merged into one company as such names of products switched round, these were originally the Brasher hillwalkers, which many people adored, the only thing that has changed is the name, the quality is still exactly the same, full leather fully waterproof and a proper classic.
SCARPA terra GTX £145
one of Scarpa classic boots, many people have started in these boots and stuck to Scarpa ever since again full leather with a Gore Tex lining.
Salomon Quest Prime £140
the quest range from Salomon has been around for a while so there is a pedigree when it comes to these boots, very solid for a fabric boot with Gore tex lining and a contra-grip sole
in terms of mid boots the option are as wide and varied as you could imagine, my pick from this range would be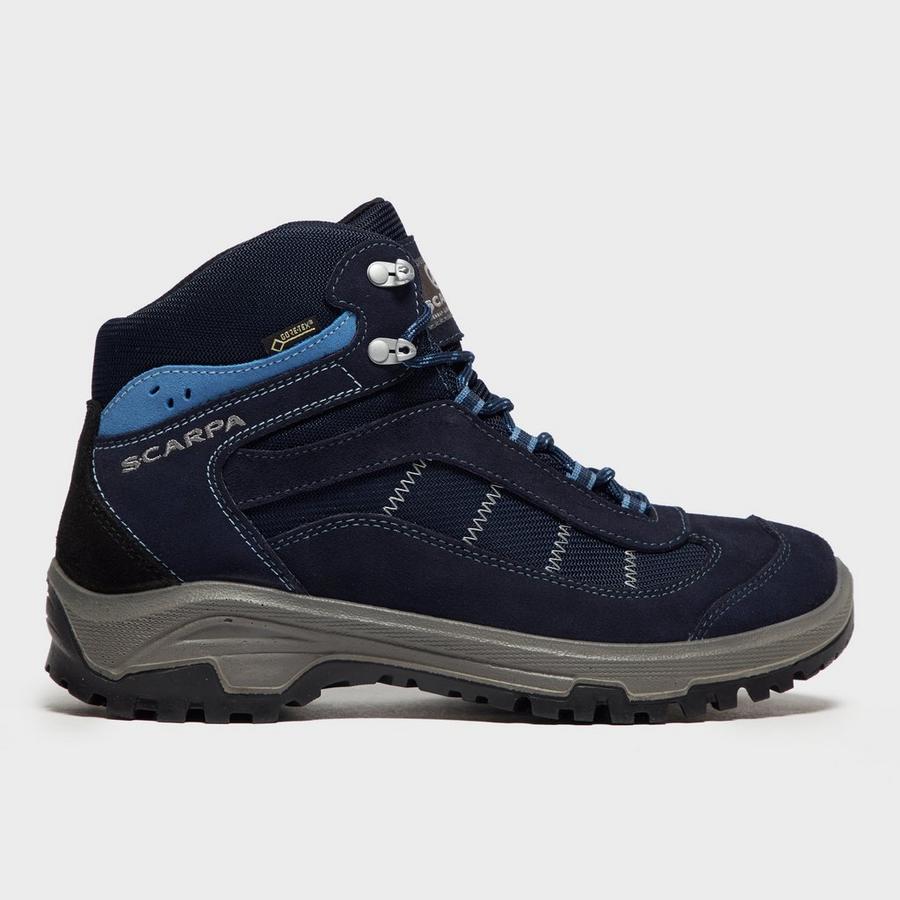 the SCARPA Bora £120, remembering that mid boots do not offer the same ankle support these boots make a nice compromise between comfort and support
the Salomon ultra 3 Mid £125, these would be my other choice for a mid boot, well priced in its range and very comfortable too.
and just as a little bonus if money were no object the boots I would go for in terms of a full boot would be
The Meindl Bhutan, £210 but just putting this boot will make you realise why this boot tops my list,
for fabric boots
the Asolo Flame (my actual boots) £150, snug fitting, comfortable, light weight, almost perfect for me.
Rucksacks
A well fitting rucksack is a thing of joy and can really make the difference between a painful expedition and a expedition to remember for the good times, whichever rucksack you buy make sure it at least has a frame inside it, a frame in most cases is two bars that run down the inside of the rucksack to help carry and distribute the weight, as you go up in price the frame can become more elaborate but will never be outside the rucksack itself. Also do not even consider a travel bag, these tend to be the bags that have a smaller bag attached on the outside and therefore end up upsetting you centre of balance considerably. As I already mentioned please don`t borrow a rucksack if you can help it, while one rucksack may fit the person you are borrowing it from it may not fit you properly, again as with the boots I will list the rucksacks that I would choose in particular price brackets but again please shop around until you find the rucksack you are happy with.
the budgets I will use are
£60, £100, £150 and £200
the reason I have started at £60 and not £50 is most of those at £50 do not come with a frame
amazon basics £49.99 (55l)
a basic rucksack with a frame a rain cover, the only issue with this is you wont be able to try on before it reaches you.
Vango Sherpa, classic bag that has been around for ages, fits most people,
in the £100 range the three bags I would consider looking at would be
the Berghaus Trailhead, £99 this is a bag that`s been around a while and has had a number of tweaks in its time to get it to the point where it is a highly respected rucksack.
Lowe Alpine Cholatse £85, check the price on this one as I have seen it for several different prices
in the £150 range the options for quality rucksack really open up.
Lowe Alpine Atlas £115, this rucksack is from a line of ruicksacks that can trace its heritage back to the 1960s, Lowe Alpine has always been on the forefront of rucksack technology.
Berghaus ridgeway £115, essentially a more advanced version of the Trailhead
Osprey Exos 58, £150, slightly smaller than the others I`ve picked but if you can get your gear in here you will not be disappointed,
in the £200 range you are obviously paying premium prices but trust me, just try them on weighted and you can see where your money will be going.
Osprey Atmos 65ag £190, always a favorite, always a winner
Gregory Baltoro
Mammut Creon Crest £192.95, being an "alpine" style backpack this has minimal straps on the outside to get caught on anything.
as with boots there are many many many options to choose from, so shop around for what you feel is best for you.
if it was a case of money no object the rucksack I would choose personally would be
Osprey Levity 60l, £240, a 60 litre bag that weighs less than a kilo....
Sleeping bags
you will find two types of sleepingbags for sale, synthetic and down, as a basic overview, down is warmer for its weight, compacts down smaller so fits in your bag easier and is lighter on the downside however if these bags get wet they lose all their insulation capabilities from which it is almost impossible to recover. synthetic bags on the other hand will lose some insulation properties but not all when wet, but these bags are heavier and bulkier and not as compressible, I would recommend synthetic for your first sleeping bag but of course this is entirely up to you.
As promised have a couple of tips on keeping warm in a sleeping bag,
firstly, sleeping bags reflect whatever heat you put into them so if you wear seventeen layers when you climb into your sleeping bag it will have no heat to absorb, less in this case is better.
buy a decent sleeping mat to go underneath your sleeping bag, a thick roll mat mat is good but doesn`t provide a lot of comfort, the other alternative is a self inflating mat, warmer, more comfort but requires maintenance.
secondly, and this also goes with good maintenance as well, with the exception of your expedition do not keep your sleeping bag stuffed in its stuuf sack as it will lose it insulation abilities over time.
I will stick to the £50 £100 and £150 and the first category will be synthetic, comfort rating is subjective and temperature listed is as a guide only,
Coleman North Rim, £49.95, comfortable down to -2, but bulky to pack away
Vango Latitude 300, prices vary, comfortable down to -5, bulky but not as bulky as above
Berghaus Transition 200, £50, comfortable down to 0 degrees, least bulk at of all on here
in the £100 synthetic range, my pick of the bunch are
Mountain Equipment starlight 2, £100, comfortable down to 0 degrees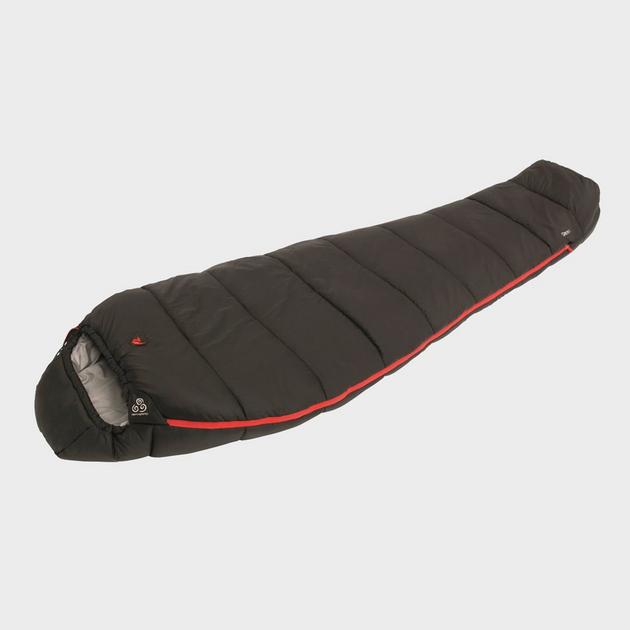 Robens Glacier 2, £80, comfortable down to 0 degrees.
and now for the £150 range, if i`m honest the insulation in these bags is probably going to be a little too good however these bags compress down next to nothing .
montane MT prism, £150, comfortable down to 0 degrees, least amount of bulk
Mountain Hardwear lamina Z flame, £150, comfortable down to -7
Mountain Equipment starlight 4, £150, comfortable down to -7, very bulky
onto the down sleeping bags, as I mentioned these bag have to be kept dry otherwise they will not keep you warm.
I have to skip the £50 range as I could not find anything
£100
Vango fuse 2Degree, hybrid down, £100, this bag is a fusion of synthetic and down insulation and as the name suggests comfortable to 2 degrees
Kathmandu Pegasus, prices vary, comfortable down to 0 degrees
last but not least in the £150 range
Vango Venom, £150, comfortable down to 0 degrees, absolute classic of a down sleeping bag
Mountain Equipment Helium £150, comfortable down to zero degrees, another classic that hasn`t changed in years, because it really doesn`t need to.
Vaude cheyenne 200, £130, comfortable down to -3
as I said at the beginning this was only intended to be an overview of what is available in the price ranges, do some reasearch before purchasing and please remember what I said about getting a good fit for you.
please follow the link below to my website
www.lwbcfs.com